Salon services
Richard Nicholas offers diversity in haircutting. We offer expertise in razor haircuts and dry haircuts for women and men in Philadelphia. We also specialize in color services including, foiling, balayage, all over hair color, and double process blondes. Consultations are recommended for texture services, creative color, and corrective color services. We accept cash and all major credit cards for hair services. Gratuities are cash only. We require a minimum of 24 hours notice for all appointment cancellations.
HairCut
All haircuts begin with the end in mind. When you book a haircut at Richard Nicholas, you will receive a consultation to develop a plan with your stylist. This will be followed by a relaxing shampoo, haircut, and blow-dry. All stylists are well-versed in all the tools necessary to achieve your desired look.
$65
SIngle Process re-Touch
This service covers 1 inch of regrowth for those covering grays and lightening, or darkening their base color in one step (blow dry not included). If your desired look requires more attention, then additional charges will be applied. Additional charges may include a pull through, fill, add- on glaze, or extra color. Pricing will be discussed and clarified during consultation.
$65 & up.
Blow dry
The perfect service to compliment your new color or just treat yourself to some good hair. This includes a consultation, relaxing shampoo, and style with blow dryer and brush. Hot tools, basic conditioning treatments, and Olaplex can be added on to this service.
$40 & up.
Dimensional Color
We offer multiple techniques for all of our highlighting services. All of our colorists are trained to discern when it is appropriate to foil or balayage the hair. Modern day highlighting may require many steps, product, and expertise to achieve the desired result. Consultations are required for new customers.
$130 & up.
Double Process Blondes
This service is for those clients, who require a two step lightening service, to achieve their desired blonde. Our colorists use bond-building lightener to retain the integrity of the hair during this meticulous service. Consultations are required for first time clients, due to the potential complexity of the overall desired result. In general, pricing varies based off of the amount of lightener and toner that maybe used.
editorial Hair
This service is for those of you looking for that head turning up-do at your next big event.
$100 & up.
Arrojo American Wave
$350 & up.
A curl enhancing system by, Nick Arrojo, that will support all haircuts. You can have a fashion forward curl or the trendy lived-in beach waves, its all up to you!
Keratin Treatments
$250 & up.
If you would like to cut your blow dry time and frizz, then one of our keratin treatments could be the answer. We provide these services using Cezanne and Coppola Keratin Treatments.
Whether you want to eliminate just your frizz or erase your curl pattern entirely, the MainTamer has you covered. Come find out what all the rage is about with this two step smoothing service.
extensions
If you are looking to add length or fullness to your hair, then Hot Heads Extensions are for you. Our certified stylists will do a consultation for your desired result. They will match your hair color, choose your length, and custom order your extensions. A consultation is required prior to scheduling the service. A deposit will lock in your Hot Heads order and appointment.
$400 & up
kids haircut
This service is for children under the age of 12 accompanied by a parent or guardian. This service mirrors the Richard Nicholas standard haircuts.
$40
OlaPlex/WELLA Plex
$30 & up
You can insure the integrity of your hair by adding these award winning, bond builders, to any haircut or color service that we offer. This can be a stand alone service.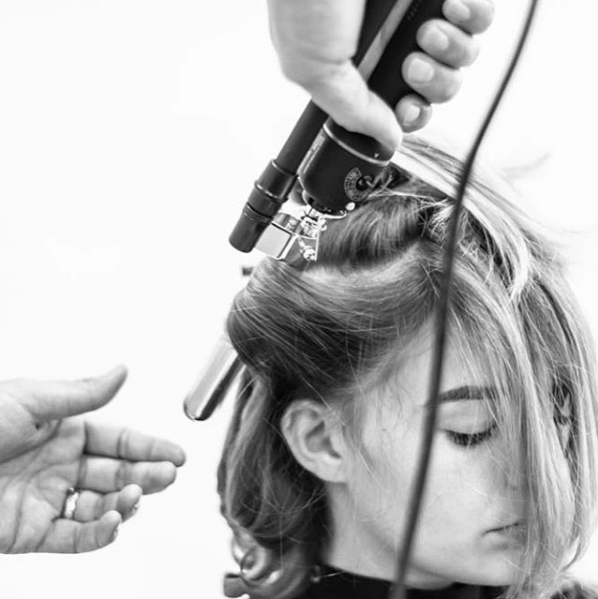 You can complete your blow dry or haircut with a curling iron or flat iron to lock in your set. This will add longevity to your look.
Conditioning Treatment
$20
Rejuvenate your hair with some conditioning love, After a through shampoo, we apply the appropriate treatment from R&CO, Living Proof, Bumble & Bumble, or WELLA.
Please note: All prices listed are a starting point. They are subject to vary due to the length and thickness of your hair.